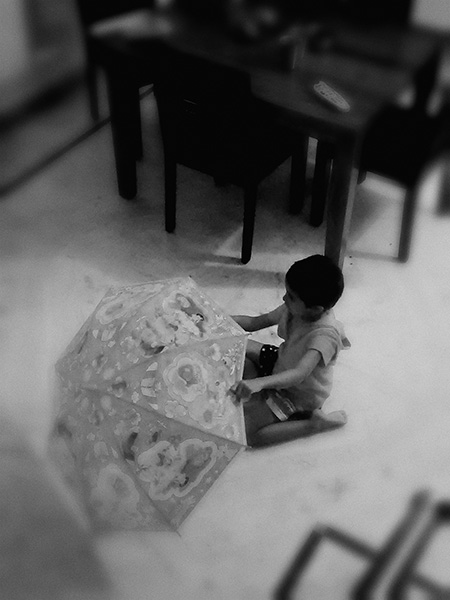 My daughter got an umbrella as a gift for her 5th birthday and she's been in love with it ever since. There is something about the umbrella that I can't explain well enough.
Kids associate it more with play than with utility. They can have fun with mundane everyday objects. Tells us we have a lot to learn from kids!
Open it up, lo and behold, you have a tent! Sometimes, it's a boat that you can sit inside. Be a prankster and rotate it after returning from heavy rain, sprinkling water all over the place. If you are creative enough, the umbrella is a lot of fun!
"Chaththri mane" (umbrella house) is a favorite playtime activity of the kids.  Open up multiple umbrellas, form a closed shelter and play for hours inside. Sometimes they have a fight and one will pickup her / his umbrella and head home. Sometimes, they play ghost inside and try to scare each other. Sometimes, they cook up prank-recipes in giggly tones!
To my daughter and her friends, the umbrella is more of a toy than a utility item. To them, it's a 'funbrella'.
PS: Originally, I had no plans to add this image to the photo essay on my kid. I printed a lot of images yesterday and asked her to pick her favorite – she picked this image. That was when I realized how much she likes the umbrella. This image was shot in poor light with my cheap phone, which shouldn't matter to anyone. It certainly didn't matter to my daughter!